2013 Pinot Noir, R. Buoncristiani Vineyard, Russian River Valley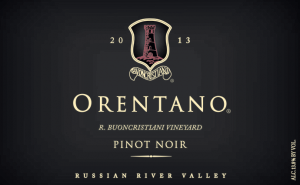 Our artisan Pinot Noir was handcrafted from our estate R. Buoncristiani Vineyard, in Russian River Valley. It is a very food friendly, medium-bodied Pinot Noir. With hues of a great Burgundy, our winemaking style for this wine resulted in handcrafted, Old World flavors of plums and ripe strawberries, with a bit of cocoa powder on the more complex finish. This Pinot Noir will work very well with all of your favorite medium-flavored dishes.
We now offer 10% case discount on orders of 12 or more bottles!
We now offer 10% case discount on orders of 12 or more bottles!" />
$40.00
Harvest date: 9/25/13
Harvested and crushed 5.9 tons of clone 115
Crushed and destemmed and fermented in open topped fermentors
Wine was punched down twice a day and pressed off at dryness
Aged in 100% French oak. Percentage of new wood 30%
Malolactic fermentation took place in barrels and aged sur lies until bottling
pH = 3.73
TA = 5.0
Alc. = 13.66
348 cases bottled 8/12/14